A new workshop series focuses on recovering Indigenous experiences and voices in the writing classroom
Feb. 9, 2023
Academic Writing in the Borderlands workshop participants examined what it means to teach writing at a land grant, Hispanic-serving institute in the U.S.-Mexico Borderlands, situated in the homelands of two tribal nations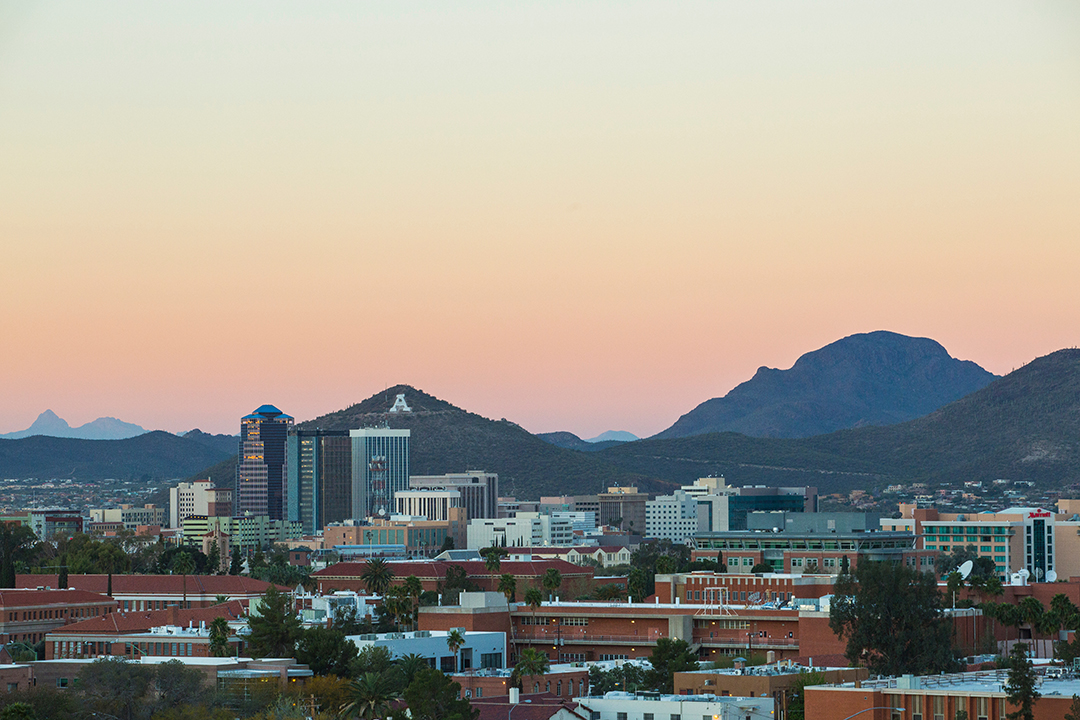 The Writing Skills Improvement Program (WSIP), a campus service center of professional teachers, tutors, and editors, introduced the Academic Writing in the Borderlands workshop series for the first time in 2021 to encourage undergraduate and graduate students to consider how positionality impacts their writing and research projects. 
This past fall semester, Writing Program faculty members Nataly Reed and Sylvia Chan, with funding support from Senior Director Dr. Shelley Rodrigo, helped bring the Academic Writing in the Borderlands workshop series to a broader audience of Writing Program teaching faculty and graduate student teachers responsible for introducing these critical research and writing skills to first-year university students. 
"Positionality, privilege, bias, and integrity are complex concepts and grappling with them can be uncomfortable," said Dr. Andrea Hernandez Holm, the Director of WSIP. "Students shouldn't bear the brunt of this work on their own. That means that instructors should be thinking about these issues too, and willing to engage them in their classroom."
Prioritizing Native and local voices
The series of four workshops divided its focus between teaching topics related to indigenous experiences and voices, and approaches to academic research and writing in the Borderlands. Participants who attended the first workshop were asked to consider the stories typically associated with migration, how they are told, who tells them, and the languages they are written in. Instructors also reflected on ways to prioritize Native and local voices in their curriculum, and discussed strategies to better support students with the language and resources necessary to uplift migrant experiences. 
First-year writing courses, which traditionally benefit from smaller class sizes, offer a supportive space for students to confront these complexities of lived experience in the Borderlands. 
"Students coming to the UA from other states, other countries, may need to see beyond the square mile of our campus and see how our campus communities live and interact among local communities," said Reed, a Senior Lecturer with the Writing Program. "Students who have grown up in the Borderlands may need to see the local with fresh appreciation when they share their expertise with classmates through their writing. For myself, as a White teacher and a long-term guest in the region, important take-aways have been language I can use to reflect, question, and redress my own biases and strategies I can use to create safe learning spaces for our Writing Program communities." 
Most Writing Program instructors, beyond their contributions as classroom educators, are also practicing writers and researchers. The Academic Writing in the Borderlands workshop series challenged participants to explore how their positionality toward Indigenous communities influences their work across each of the roles they hold at the university.   
Chan, a Writing Program Senior Lecturer and a former WSIP instructor for their high school Summer Writing Institute, shared how she views her own intersecting identities as researcher, writer, and educator. 
"As a writer, I am mindful of my broken and unknown lineage: I am the daughter of refugees and former foster youth, with lived experience growing up in the California and Arizona Borderlands. I feel I am always writing a hauntology: documenting the parts of my life that I can remember—and in a shared lineage of those before, after, and alongside me who don't really know where they come from and don't have families they can call their own," said Chan, author of the poetry collection We Remain Traditional (CLP 2018).  
"As a teacher, I represent 2.5% of foster youth who graduate college and 0.3% who complete graduate programs," she continued. "Living in the Borderlands, issues of detention and separation of children is an everyday story of the foster children I work with. I want to make it so that foster care literature—connected to the stories of Migrants and Refugees—is of the present, with greater and own-voices visibility." 
Place-based writing in the Borderlands
Instructors who completed the workshop series had an opportunity to share activities, resources, and strategies developed in partnership with WSIP and the Academic Writing the Borderlands workshop series at the Writing Program's spring teaching symposium. Panelists in these sessions presented on topics ranging from a new climate justice themed English 102 course to local, place-based writing assignments that introduce students to ethnographic and hands-on research. 
One panelist was Writing Program Senior Lecturer Melani Martinez, a native Tucsonan whose family has lived in the Sonoran desert for at least five generations. Her memoir-in-progress tells the story of her family's molinería, an early 20th century hub for tamales and tortillas in Tucson's historic Presidio District. 
"This work is incredibly personal and significant to me and my family. This land is my home, so I invite students into an opportunity, no matter where they are from, to think about what home means to them and to listen to what the land has to tell us," said Martinez, who teaches foundation courses in the Writing Program and Food Writing in General Education.
"In order to understand our current challenges, we must hear stories of displacement, gentrification, and colonialism. We must enter that history, and this is often the focus in my Borderlands classrooms. I find that having students go into the land, walking through spaces that hold that history, has the most impact on their learning. Then we can make room to celebrate where we are—our unique cultural context—and allow it to guide our purposes in writing." 
Resources shared by Hernandez Holm during the workshop series will support Martinez and other Writing Program faculty and graduate student instructors as they develop curriculum and introduce Borderlands-focused content into their first-year writing classes. 
"Student writers often don't consider positionality unless specifically required to do so," said Hernandez Holm, "but we know that this is an important step for the development of responsible research and writing. In addition to our personal experiences, at UA, our privileges and responsibilities are informed by our roles as writers and researchers at a Research 1 institution in the Borderlands."  
Instructors who missed the inaugural workshop series may have another chance to participate. Reed and Chan hope to bring the Academic Writing in the Borderlands workshops back again next Fall with an expanded focus on new Borderlands-related issues, and are searching for pathways to sustain this important series over the long term. 
"As instructors who work in the Borderlands, we have a moral obligation to do this work," said Chan. "We cannot forget about the people in detention, the undocumented, the refugees, the incarcerated. We cannot forget about their children, who are our students, and that they are living persons."